NSPCC

The NSPCC provide information for children and young people about Abuse and neglect, such as how to stay safe, and advice on bullying. It also provides a confidential service to enable children and young people to report concerns they have for themselves, brothers or sisters, or a friend.
Barnardo's

Barnardo's works with children, young people and families living on the margins of society who are struggling to overcome the disadvantages caused by poverty, abuse and discrimination.
Meic

Meic is an advocacy and advice helpline for children and young people in Wales. Providing advice on issues over the phone, by text and online.

The Children's Commissioner for Wales speaks on behalf of children and young people, providing them with information about rights and encourages them to have a say on things that affect their lives.
Children's Rights in Wales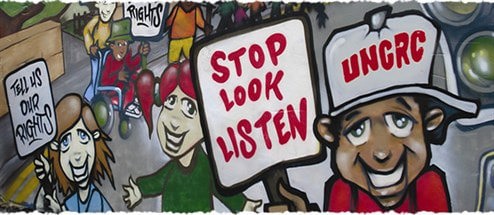 Children's Rights in Wales - Children and young people are critical to achieving the full implementation of the UNCRC in Wales. They need to be made fully aware of their UNCRC rights and how to claim them and also need to be involved in monitoring and reporting on children's rights as well actively involved in the process of holding Government to account to respect, protect and fulfil children's rights.
Children's rights are all the things that children and young people need to make sure that they are safe, have the things they need to survive and develop, and have a say in decisions that affect their lives.
In 2011 Wales became the first country in the UK to make the UN Rights of the Child part of its domestic law.
Funky Dragon

Funky Dragon - the Children and Young People's Assembly for Wales - is the umbrella children and young people led organisation for promoting and supporting the implementation of the UNCRC in Wales. Their aim is to give 0 – 25 year olds the opportunity to get their voices heard on issues that affect them. The opportunity to participate and be listened to is a fundamental right under the United Nations Convention Rights of the Child. Funky Dragon tries to represent as wide a range of children as possible and work with decision-makers to achieve change.