CADW: The Junior Regional Safeguarding Board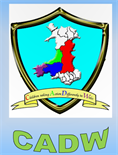 The Junior Regional Safeguarding Children Board is also known as CADW (Children taking Action Differently in Wales).  CADW was set up in the summer of 2014 and is made up of young people from Carmarthenshire, Ceredigion, Pembrokeshire and Powys.
The purpose of CADW is:
to ensure that young people understand what safeguarding is and to raise awareness
work on behalf of young people across the four counties
to discuss how to keep young people safe
to share the views of young people
to challenge the Senior Regional Safeguarding Board on decisions.

"This is the cutting edge of safeguarding practice. These young people are equal partners in our safeguarding response and the challenge for the adult regional safeguarding boards and indeed the national board is to hear their challenge and respond appropriately." Keith Towler, Vice Chair NISB.
Read the National Independent Safeguarding Board's blog on the CADW visit to the CYSUR Executive Board #ChildsVoice
http://safeguardingboard.wales/2017/09/05/safeguarding-voice-resilience/
The meetings are held quarterly in turn, either in Powys, Carmarthenshire, Ceredigion or Pembrokeshire.  
At the meetings, young people gave feedback on the individual county activities. Activities have included a conference held on Safeguarding in Pembrokeshire and the production of a DVD on Anti-Bullying which had been made by the Ceredigion JLSCB-Safe Stars.
The meetings include discussion with visitors, such as members of the CYSUR Executive Board and the National Independent Safeguarding Board. Previous discussions have also included how CADW and children's services workers could improve working together and how the group think that there could be a wider representation from young people.
(If you want to be involved please do get in touch. Regional contact details below).
Safe Stars Project Report
The CADW Group's current priorities are:
Substance Misuse
Mental Health
Child sexual exploitation – including online safety and sexting
Bullying
How to build healthy relationships.
CADW's suggestions / ideas for improvement:
Enhanced PSE curriculum.
Courses & training other than videos to include mental health & substance misuse topics.
National and local up-to-date information on where to go for help and advice to be made available in school.
More consistent in-depth training about how to deal with bullying, mental health problems and substance misuse is needed by professionals, as well as young people.
Positive reinforcement is also need to encourage schools who take proactive steps to deal with bullying.
Greater resourcing to allow teaching staff time to also take on pastoral care roles.
Resilience is integral to Safeguarding — greater recognition and support for family and social circles was identified as the way to build resilience.
LABELS Video (With Fixers - led by Bethany Roberts)
Open Mic Night (June 2020)
Anti-Bullying Video (National Safeguarding Week 2016)
Safe Rap Video (November 2018)
CADW Presentation to Exec Board - April 2021