Snapchat Safety Film wins prize in Cardiff Bay
A short film created by Year 12 Ysgol Gyfun Gymunedol Penweddig drama pupils has won second prize in a nationwide competition. The short film focuses on raising awareness of online safety among young people, particularly highlighting and prompting discussions of the risks surrounding the misuse of Snapchat. The project was facilitated by the Ceredigion Youth Service, in conjunction with Aberystwyth University and Ysgol Gyfun Gymunedol Penweddig.
The film was entered into the Welsh Government's Safer Internet Day 2018 competition. This year's theme was 'Create, connect and share respect'. The competition asked children and young people to explore and express how being online makes them feel through word, film, music or art.
Following a thorough judging process, the film was shortlisted as a finalist. The group was invited to attend the Safer Internet Day 2018 event hosted by the Welsh Government, South West Grid for Learning and UK Safer Internet Centre at the Pierhead, Cardiff Bay on Tuesday 6 February 2018. Ceredigion's short film came second in the competition's Secondary category, chosen from 300 entries across Wales. The award was presented to the pupils by Kirsty Williams AM, Cabinet Secretary for Education, and will be on display at Ysgol Gyfun Gymunedol Penweddig.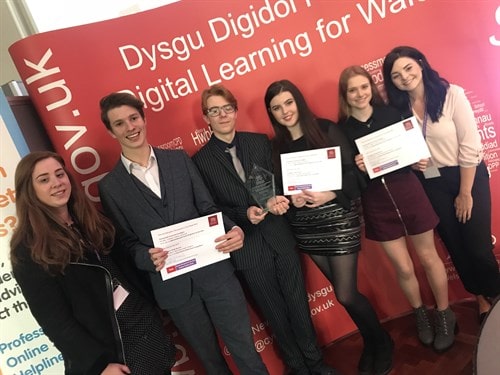 Councillor Catrin Miles, Cabinet Member with responsibility for Learning Services said, "On behalf of the Council, I commend the hard work undertaken by the pupils from Ysgol Gyfun Gymunedol Penweddig who were part of this film right from the beginning, discussing ideas, writing the plot, to the final part of acting in, filming and editing the final film. The film was chosen as one of the competition's finalist entries from 300 applications across Wales. I am incredibly pleased to hear that the film was awarded the second prize in the annual Safer Internet Day competition. This is great recognition for the young people's achievement in creating such a successful resources, which will benefit others across the county. Thank you to Ceredigion Youth Service, Ysgol Gyfun Gymunedol Penweddig and Aberystwyth University for supporting the pupils to create this film".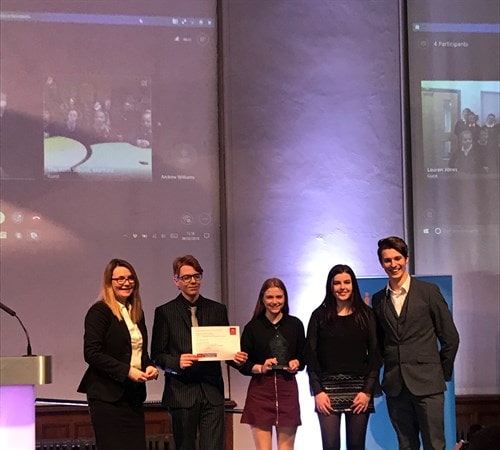 Siôn Hurford, a Ysgol Gyfun Gymunedol Penweddig pupil involved in creating and producing the short film said, "It is really important that we educate and raise awareness of the dangers surrounding the misuse of different social media platforms. For this film, we decided to focus on snapchat safety, with the app being very popular amongst young people. The film portrays various dangers and the negative effects that can arise from misusing social media apps, such as cyber bullying, peer pressure and the sharing of unsuitable images. We hope this film will be used to highlight these issues and to prompt open and honest discussions around cyber safety in schools and colleges across Ceredigion".
The film was designed to be used as an educational resource within secondary schools, Hyfforddiant Ceredigion Training and Coleg Ceredigion. A DVD of the film, free of charge to these establishments, is available from Ceredigion Youth Service, by contacting Lowri Evans on 01545 572 352 or lowri.evans@ceredigion.gov.uk.
To find out more information about the event or for online safety tips, advice and resources to help children and young people stay safe online, visit https://www.saferinternet.org.uk/.
Images:
(L-R) Rebeca Davies (Youth Worker, Ceredigion Youth Service) Siôn Hurford, Owain Gruffydd, Anest Eirug, Eluned Owen (pupils from Ysgol Gyfun Gymunedol Penweddig), Lowri Evans (Deputy Principal Youth Officer, Ceredigion Youth Service) at the Safer Internet Day 2018 event in Cardiff Bay.
(L-R) Kirsty Williams AC and Cabinet Secretary for Education, Owain Gruffydd, Eluned Owen, Anest Eirug, Siôn Hurford, (pupils from Ysgol Gyfun Gymunedol Penweddig) receiving their award for the Safer Internet Day 2018 competition in Cardiff Bay.