Anti Bullying film leads to promises
A group of young people and a range of influential representatives came together in an event on Friday 18 November to discuss bullying to note the National Safeguarding Week 2016.


As a part of the event which was held at Aberaeron Rugby Club, a film was shown dealing with bullying, created by young representatives of Sêr Saff, Ceredigion's Junior Safeguarding Board. Sêr Saff members have been working hard to create the piece, assisted by Arad Goch Theatre Company, to raise awareness of a subject of their choice. The Sêr Saff group is facilitated by Tros Gynnal Plant who provide advocacy services across west and mid Wales.
The group explained: "It was really fun working on the film. Having access to all of the filming and editing equipment really helped us to make something that really puts across an anti-bullying message that could potentially help a lot of people."
Sarah Durrant, Service Manager Tros Gynnal Plant, said: "The young people involved in this film worked really hard. They were involved in every aspect of film making which provided new opportunities and experiences. As it has been produced in Ceredigion by local young people we hope young viewers across the county may be able to more easily identify with it."
She continued: "The film is very powerful and shows a strong anti-bullying message, even without the use of a dialogue, which is something the young people decided against, as they felt it would be more powerful this way. Both the young people involved and Tros Gynnal Plant hope that it can be viewed by as many young people as possible within Ceredigion."
The film prompted discussion amongst representative from relevant services as they outlined how they could commit to make a stand against bullying.
Councillor Catherine Hughes, Cabinet Member for Care and Assurance, said: "National Safeguarding Week exists to remind us of the duty on each and every one of us to ensure the safety and wellbeing of children and vulnerable people in our society. To this end, I am pleased that Ceredigion works closely and successfully with neighbouring counties as part of the CYSUR Regional Safeguarding Board."
She added: "Of course, input by the young representatives sitting on Ceredigion's Junior Safeguarding Board, Sêr Saff, has been incredibly valuable, as shown by their powerful anti-bullying film. The mature and productive discussion that followed the showing was very heartening, and I look forward to see the further cooperation between all relevant agencies to ensure the safety of children and vulnerable people in our society."
It is hoped that the film could be used in Ceredigion and beyond to educate children and people who are in contact with children to stand up to bullying in all its forms.
National Safeguarding Week aims to raise awareness of everyone's role in safeguarding children and vulnerable people, and the services and support that is available.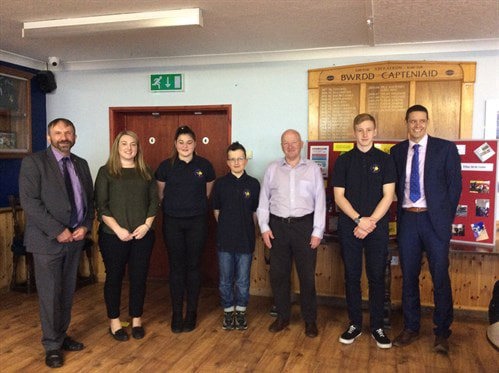 PHOTO: (L-R)
Elfed Hopkins – Head of Children's & Families Services Ceredigion County Council;
Emma Jones – Advocate Tros Gynnal Plant;
Mia Howells – Member of Sȇr Saff;
Hefin Bragg - Member of Sȇr Saff;
Councillor Hag Harris – Cabinet Member for Learning Services, Children and Young People's Partnership;
Peter Westbury - Member of Sȇr Saff;
Matthew Brown – Head of Learning Services Ceredigion County Council.